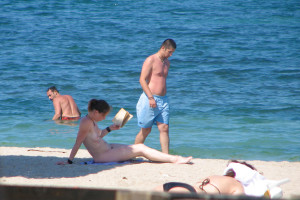 Many years ago, when I was just starting to explore social nudism, I was travelling across the state for a meeting or something. My route took me very close to a nudist resort that I'd wanted to visit. So I called ahead and arranged for a tour. I pulled off the main highway, and down the ever increasingly smaller road. I wasn't wearing much to start with, and pulled off the rest about half way down the small road. Finally I reached the entrance, and pulled in to a parking space in front of the office.
Since this was a nudist resort, I saw no need for clothes, and got out of the car, and walked into the office totally nude. I walked in to find the guy behind the desk was clothed, as well as the two couples in line ahead of me. I felt really NEKKID! He finished with the first couple and we smiled at each other as they departed. The guy asked if I was the one there for the tour. He said there would be someone here shortly. I was a little nervous, but no one seemed to care that I was nude.
A few moments later, I heard something outside the door, and turned to look. In walked a family of five. Husband and wife, with their three kids two boys and a girl that were between 18 and 16. All five of them were completely nude and barefoot just like me. It made me feel a lot better. My tour guide showed up shortly after that, and we were gone.
It was a strange experience, but I remember it well.