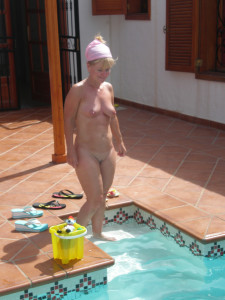 First one I tried was the Therma Europa Centre in the centre of Berlin. Cost was 18Euro for a full day pass, which is good value I think. I went on a Saturday and stayed for about 8 hours. The changing rooms are seperate for male and females. In the main complex there is a swimming pool, 4 saunas, 2 steam rooms, hot and cold spas, and a bar and restaurant. Plus there is also areas outside where you can swim and relax. The clientelle really is pretty much 50/50 males and females, and of all ages. Woman come here either by theirselves, with friends, or with partners – unlike the UK where the vast majority of women who visit are with a partner. Everyone who goes in the sauna or steam room is fully nude(unlike these UK places where most people keep themselves wrapped in a towel) and a lot of people just walk about the complex nude(though in the restaurant and bar area you have to wear a bath robe). And also unlike these UK places, there is no perving or "swinging" going on. Everyone here is here because they enjoy using the sauna, spa, and swimming pool. I really enjoyed my time there. This is the sort of place I've been looking for a very long time. It was very busy on the day that I went.
Then on the day that I returned back to the UK I had a bit of time to spare, so I went along to the Sauna Garten in Blub, at Buschkrugallee 64. Wasn't that easy to find the actual place itself. I had to go into the Hotel reception and ask, who directed me to the other side of the car park. Then I couldn't spot it easily, because there was no clear signs at the entrance to say that this was a sauna complex, there was only a sign(can't remember what it said) to indicate that this was the entrance to a bar. Anyway, ventured in and found that this was indeed the sauna. The price was 18Euro for up to 4 hours, or 20Euro for a day pass. As I only had just over 2 hours to spare however, I went for the 4 hours option. All very nice inside. The changing room is unisex. Then in the main area there is 6 saunas, and 2 steam rooms – all of varying temperatures and styles. Plus there's a small swimming pool, sanatariam, and relaxation area. Again, everyone nude in the sauna and steam rooms – none of this silly towel wearing business. A good number of people walk around the complex nude. Didn't seem to be quite as balanced a mix of sexes here though(on this occasion anyway), maybe about 62% males/38% females at my rough estimate. I went on a Tuesday afternoon between 3 and 5pm. There was probably only about 30 people here at that time. I expect it would have got a little busier later that evening after I had gone. I was sad to have to leave the place! As with the Therma Europa Centre, I found this sauna absolutely brilliant. And I would visit again if/when I'm next in Berlin.
If only they had places like this in England. It would be great to visit one each week to relax nude. Instead all we get here(apart from the UK festival saunas which are highly recommended) are these pathetic seedy "naturist health Spas" which are dominated by perverts and swingers(due to the inclusion of "play rooms" upstairs), and a mostly male clientelle. Never ever again will I pay to visit those places again – the price I pay(paid) for those(?15 for Bristol Gardens, ?18 for Rio's) will pay for half the cost of a return plane ticket to Berlin! I paid just ?35 for my flight to Berlin from London Stansted.
I look forward to returning to Berlin or elsewhere in Germany later this year, and spending a day or two nude at one of these excellent sauna complexes again.
German Saunas = absolutely brilliant!!
UK Saunas = absolutely rubbish